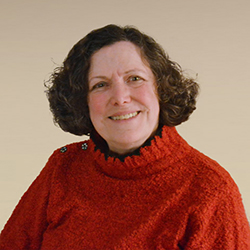 Ruth J. Abram founded the Lower East Side Tenement Museum, the International Coalition of Sites of Conscience, the National Women's Agenda and Coalition, the Institute on Women's History, and the traveling exhibition and book "Send Us a Lady Physician: Women Doctors in America, 1835 – 1920." In 2014, she founded Behold! New Lebanon, the nation's first living museum of contemporary rural American life. Harnessing the skills of local people who serve as educators, the museum draws an intimate portrait of small-town life and makes it accessible to visitors. In 2019, she was presented with the Louise du Pont Crowninshield Award, the National Trust for Historic Preservation's highest national recognition for her paradigm-shifting leadership that has directly inspired countless organizations to radically expand cultural and interpretative concepts at historic sites around the world.
An activist turned historian, Ms. Abram has graduate degrees in social welfare and American history and has pioneered the use of history to address social issues. Her writing has been published by a wide range of publications including The Midwest Poetry Review, The New York Times Book Review, History News, The Washington Post, The Public Historian, and The Guardian. A popular speaker, she has appeared before audiences from the National Trust for Historic Preservation, to the Conference Board and the Family Service Association of America. Her numerous media appearances include World News Tonight, The Today Show, and National Public Radio. Along with David Arnow, Mary C. Boys and Muhammad Shafiq, Ms. Abram produced  Exodus Conversations, a multi-faith dialogue on the story of the Exodus as it appears in the Hebrew Bible and the Qu'ran.
A graduate of Sarah Lawrence College with an MSW from Brandeis's Florence Heller School, Ms. Abram has an MA in American History from New York University, where she was a Kennan Fellow. Her work has been recognized by awards from The Aspen Institute, New York University, Sarah Lawrence College, Russell Sage College, Muhlenberg College and Hebrew Union College. In 1975, she was appointed Commissioner of International Women's Year by President Jimmy Carter.