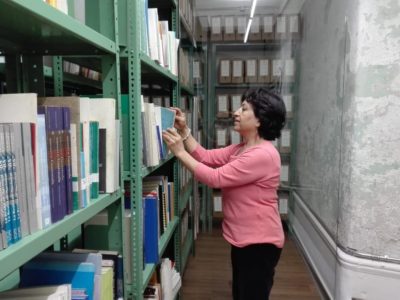 The Memory Center of Monsignor Juan Gerardi started in the drafting of the Guatemala Never Again (Guatemala Nunca Más) Report in 1998. Juan Gerardi collected survivors' testimonies and documentation of human rights violations during the Guatemalan civil war as he participated in the National Reconciliation Commission and authored the Nunca Más report.
After the presentation of the Guatemala Never Again Report, the original documents that served as data for the report were safeguarded while Mr. Gerardi was killed for his human rights advocacy work. After these documents were archived, the Project for the Recovery of the Historical Memory (REMHI) created a database, available to the public for consultation via www.remhi.org.gt.
The Memory Center of Monseñor Juan Gerardi aims to make its archives of Guatemala's history accessible and useful to research both nationally and internationally and can be used by students, schools, universities, research centers, religious congregations, and the general public alike. The Memory Center aids researchers and will advise if possible, gives tours of the Memory Center "Monseñor Juan Gerardi" and supports recent publications related to the Guatemalan history and public memory.
Centro de la Memoria Monseñor Juan Gerardi
6a. calle 7-70, zona 1, puerta No. 2
Guatemala
01001
Guatemala