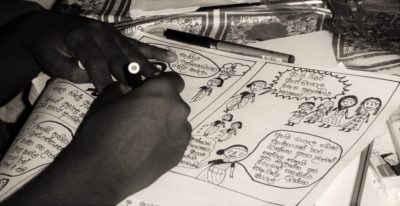 The International Centre for Ethnic Studies (ICES) uses research, policy advocacy, dialogue and the creative arts, to celebrate and promote diversity in all its multiple shades. For 34 years it has contributed to the world of ideas and has informed policy and practice through research, dialogue, the creative arts and other interventions.
The ICES vision is contained in a desire for a world that celebrates diversity in all its multiple shades. ICES has been an important player in the areas of peace, justice, gender and human rights and has been particularly influential in shaping policy and public imagination on issues of gender equality, ethnic diversity and constitutional reform in Sri Lanka.  In recent years ICES has carved a niche for itself as a centre for the study and promotion of diversity within a framework of democracy and human rights.
ICES plays three broad roles: one of research, the other of policy advocacy and a third of providing space for dialogue. It uses the creative arts to ignite the public imagination and promote truth, coexistence and diversity.
International Centre for Ethnic Studies (Sri Lanka)
2, Kynsey Terrace
Colombo 8
00800
Sri Lanka