Located in Santa Fe, the Museum of International Folk Art is home to the world's largest collection of folk art. With over 135,000 artifacts from 100 nations, the museum aims to foster understanding of the traditional arts to illuminate human creativity and shape a humane world. Through their Gallery of Conscience (GoC), an experimental space that invites the public to interact with and even shape the content of its exhibitions, the museum engages visitors on a range of contemporary social issues. In 2014, the museum received a PSF grant to create a dynamic youth-targeted radio and digital media program as part of their exhibit Let's Talk About This: Folk Artists Respond to HIV/AIDS. The Coalition recently spoke with Dr. Suzanne Seriff, Director of the Gallery of Conscience, and Dr. Laura Marcus Green, its former Community Engagement Coordinator, about the project and the lasting impact of the grant.
To some people, an art museum may not seem like the most obvious place to host conversations about social issues like HIV/AIDS. How did the exhibit come about and why was the Museum of International Folk Art the right venue?
Suzanne: That's what makes folk art so unique. It starts close to home – tying into the symbols and belief systems and customs that are shared within a family, a region or a community – and that makes it immediately understandable and relatable to so many visitors. Frequently folk art by its very nature is a community-wide art.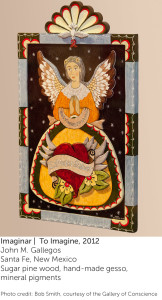 Usually it's practiced within a community, for a community and by a community. It is understood by everyone as something that embodies more than just the art form itself.
Laura: Not only is a museum devoted to folk art an appropriate venue for Let's Talk About This, but our location in Santa Fe is also relevant. This was an angle we learned about as we developed the exhibit and it really added a deep dimension to the project. Many do not know this, but the city became a destination for people coping with HIV/AIDS with the opening in 1996 of the Southwest Care Center, which has played a vital role in HIV/AIDS research and treatment. The clinic's founder and former chief medical officer Dr. Trevor Hawkins is among the researchers who helped develop new drugs and therapies to treat HIV, in order to prevent the disease from becoming AIDS. Also Santa Fe is a very welcoming and open community so people came there, in essence, to die because they felt they would be embraced and accepted there.
As part of this exhibit, you received a PSF grant that allowed you to reach out to at-risk youth in your community who had a connection to this topic. With the help of N'MPower, an LGBTQ youth resource center, and Youth Media Project, an organization that teaches the art of digital storytelling to young people, you developed a series of radio programs in which the youth participants interviewed artists from the exhibition, and wove their own stories into a series of segments around the overall topic. Can you tell us more about the young people you reached out to?
Laura:  There were about five to eight core participants of mixed cultural heritage – some Latino, some Native American, some local Hispanic – all of whom became involved through N'MPower, so in some ways they were a self-selecting group in that they were already involved in the LGBTQ community and in HIV/AIDS awareness and advocacy.
Suzanne: While most were not HIV positive themselves, the participants often grappled with broader issues surrounding their sexual or gender orientations in their communities and families. A few were from conservative Hispanic Catholic families.
Laura: Our aim to was to give them a foundation, a new lens with which to view their lives so they could look with fresh eyes at traditions in their own communities and cultures. We also wanted to enable them to be mobilized to address HIV/AIDS. The exhibit was a resource and we also engaged with them through one of our dialogues, for which we were trained by the Coalition as part of our participation in the National Dialogues on Immigration project. N'MPower youth actually helped shape the Let's Talk exhibition through participation in the dialogue.
Was it hard to get the young participants talking about these issues?
Suzanne: Folk art is a great catalyst for dialogue. And we tried to find effective, non-threatening prompts – approaching them with questions such as, "Is there a thing in your family that is hard to talk about?"
Laura: It's fair to say they were stepping out of their comfort zone in many cases. There is a powerful stigma surrounding HIV/AIDS that contributes to a certain silence on the subject, which of course negatively impacts the spread of the disease.
But the project was incredibly moving in its ability to empower these young people.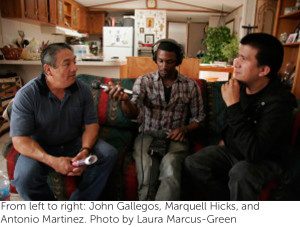 They were at-risk youth going into artists' homes. They were often nervous and really showed great courage. One of the highlights of the project for me was leaving one of these interviews and having one of the youth participants turn to me and say, "I feel accomplished."
Learning to talk is so important, but you also emphasized what Youth Media Project terms, "the art of listening." Can you say more about that?
Suzanne: Our dialogue training from the Coalition taught us the importance of seeing cross-generational work as two-sided and really respecting that. It's not about elders teaching the young or masters teaching apprentices or old people transmitting their knowledge to young people, but really a two-way street. There was a lot of listening all around.
Laura: We taught the participants interview techniques, emphasizing the importance of listening carefully as the interviewee may give them ideas for new questions. We told them, "Let the interviewee go where he or she wants to go. It may be a path to the discovery of something you had not considered."
Some of the interviews are available on Youth Media Project's website, but the project lives on in other ways too – as a prototype for other projects at the Gallery of Conscience, correct?
Laura: The PSF was invaluable to us because it allowed us to pilot a model that we could then develop and improve on together.  Indeed, when the Gallery of Conscience team began to prototype our next exhibition on immigration, we again partnered with Youth Media Project to develop and expand upon our previous digital storytelling work with youth. The exhibit, titled, Between Two Worlds: Folk Artists Reflect on the Immigrant Experience, became the basis for a five-month collaborative project with students from ¡YouthWorks!, a local organization providing academic and vocational training to local "disconnected" youth. This collaboration revolved specifically around issues of belonging and living between two worlds, which were our exhibit themes. The project resulted in digital stories woven from the students' writing and their interviews with exhibit artists. These audio segments were featured at a public Listening Event, and then came back into the exhibit in the form of a listening station, where visitors could access six stories from six youth/artist pairs. The project also resulted in an edition of Youth Media Project's radio program, Audio Revolution!
Suzanne: I've been involved with the Coalition for over ten years and the beautiful and authentic thing about the relationship is that it informs so much of our work – thematically with our involvement in projects like the National Dialogues on Immigration project and the From Brown v. Board to Ferguson project, to methodologically through dialogue trainings. We learned so much from the PSF that we keep applying to our future projects. Indeed, we are just now beginning a third cycle of digital storytelling work, again conceived and implemented in partnership with our Youth Media Project colleagues, which is oriented around our current exhibition in the Gallery of Conscience, tentatively titled, Under Pressure: Choices Folk Artists Make in Today's Global Marketplace. This time, we are expanding even further to focus on cross-generational storytelling, with master and apprentice artists sharing their hopes and dreams and skills with each other and the larger public. And instead of relying on professional audio equipment as we have in the past, we're experimenting with taking the project back to the basics, using personal smart phones and standard video editing software, so that our communities can embrace their learning and continue with these media skills on their own. We hope that this will provide a new generation model of grassroots storytelling that we can share with our broader Coalition family.