On February 24, 2022, Ukrainian civilians awoke to the sounds of shelling and explosions following Russian President Vladimir Putin's order of an invasion of the country – an order the International Coalition of Sites of Conscience condemns in the strongest terms.
The invasion is based on the false and damaging pretense of 'de-Nazification,' an outrageous term used by the Kremlin for political purposes to justify an offensive against an independent, democratic country. It is the latest fabrication in Putin's greater war on memory, which for years has undermined the notion that Ukraine is distinct from Russia, that is, a fully sovereign country with its own culture, heritage, history, and language.
This revisionist history has fueled the armed conflict between government forces and Russia-backed armed groups which, over the last eight years, has already taken a heavy toll on civilians in eastern Ukraine, killing over 16,000 people and displacing close to 1.5 million. If Russia's attacks are not terminated immediately, they will bring more death and displacement.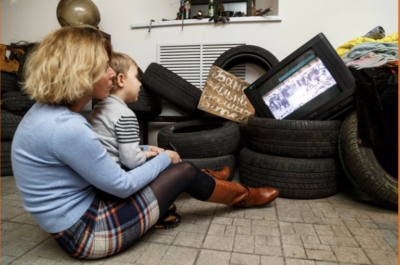 Further, Ukrainian civil society – including activists, journalists, human rights defenders, and those working in support of cultural and historic preservation, religious and ethnic minorities and LGBTQI+ rights – remain at tremendous risk, as do Russian and Belarusian dissidents who are based in Ukraine. The Russian government has also begun to arrest already beleaguered Russian activists and citizens who are protesting the invasion.
The International Coalition of Sites of Conscience stands in solidarity with its Ukrainian Sites of Conscience, the Centre for Cultural Management and the Maidan Museum, members of the Coalition's European Network, who work ceaselessly to combat revisionism, preserve Ukraine's cultural heritage, promote truth and accountability, and foster social cohesion and human rights.
Together we call on the international community to speak out against this invasion and support Ukrainian civil society, including the many museums, archives, memory initiatives, documentation centers, activist groups, and human rights defenders in the country. Only when our past is preserved with honesty and transparency is our future truly free.
February 25, 2022 – New York, New York