September 28th-30th, Genoa, Italy
"This is How We Tell the Little Ones About Migration, Religion and War"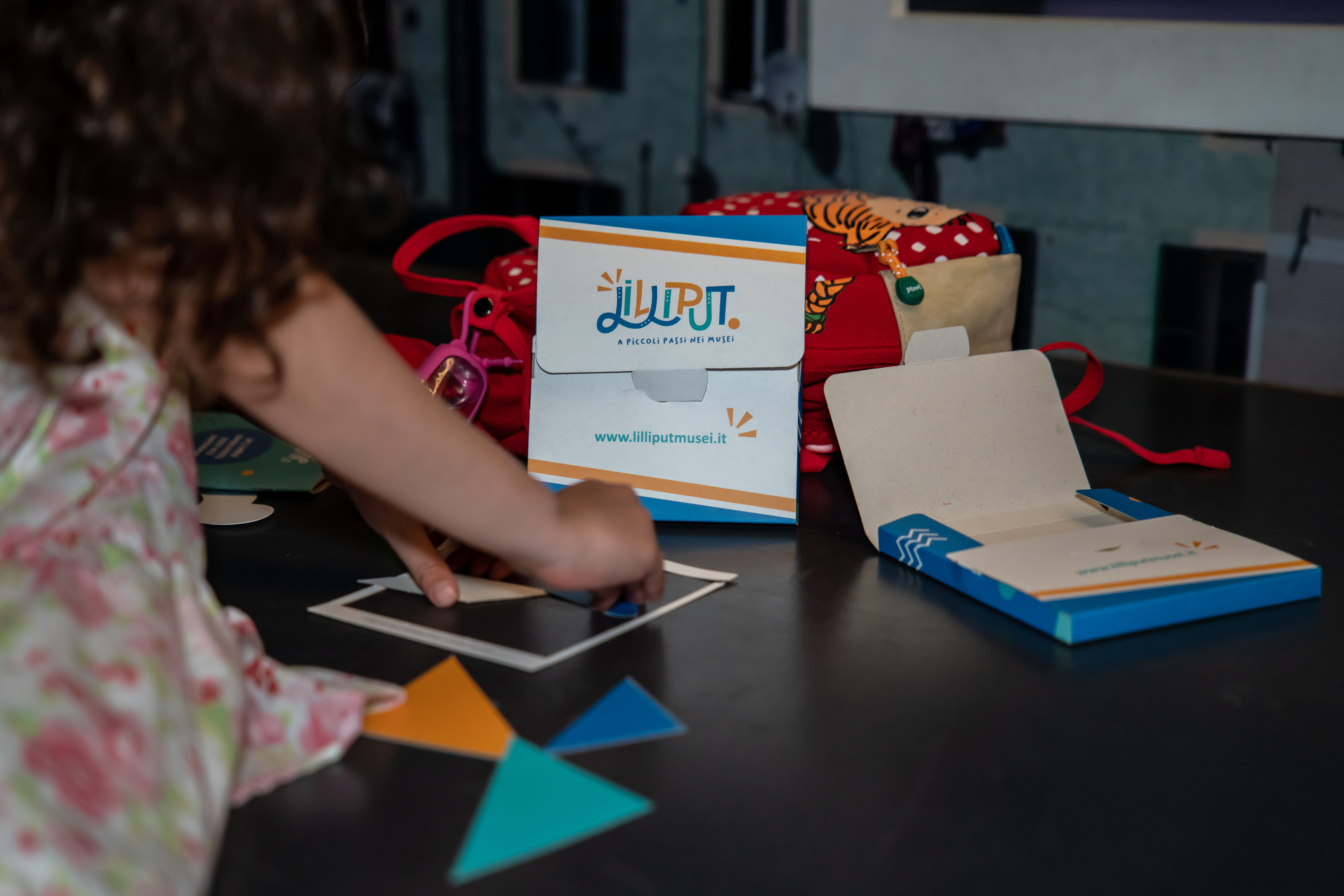 Girl using the "Lilliput Kit" containing multiple interactive and creative ways to engage with material at M.u.M.A, Italy, participating member of Sites of Conscience – Europe.
There is a global movement to redefine museums, making them stewards of positive social impact. Migration, war, freedom of religion, are among the topics addressed by museums and historic sites to promote social engagement and dialogue.
From Wednesday 28 to Friday 30 September, the Galata Museo del Mare in Genoa (Calata Ansaldo De Mari 1) will host the international meeting "Museums and Families for Change" organized by the Lilliput Network and the International Coalition of Sites of Conscience-Europe (ICSC-Europe). The three-day event will gather museum and cultural practitioners from all over Europe to rethink the concept of museums and discuss the fundamental role they can assume as agents of social change and places of active citizenship for all, including families with children.
The international meeting is a part of the Lilliput Plus project, a European project led by the multidisciplinary network Lilliput, a piccolo passi nei musei which aims to contribute to making museums cornerstones for the cultural and social growth of children and their families, and the International Coalition of Sites of Conscience – Europe (ICSC-Europe) made up of 46 museums, historic sites and memory initiatives working on themes related to memory and civic engagement in 21 different countries.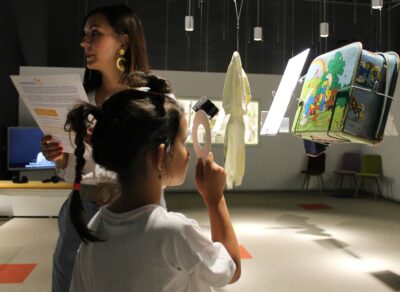 The Lilliput Plus project is working directly with three European Sites of Conscience – War Childhood Museum in Bosnia and Herzegovina, Our Lord in the Attic in The Netherlands, Istituzione Musei del Mare e delle Migrazioni in Italy – to pilot a methodology developed by the Lilliput Network to promote dialogue about complex issues like migration, freedom of religion and war among children and families.
Lessons learned from piloting the methodology will be presented at the international meeting. In recent months the three participating museums experimented (and have now set up) a path created by the Lilliput Network: three stages identifiable through a signal with a guide animal in the museum in which families will be able to play and learn more about the themes of the museum. All the routes can already be visited.
"The aim is not only to increase the presence of families in cultural places, but also to increase their participation and the degree of satisfaction of visits, thanks to activities and a language suitable for the smaller public and their companions," explains Elisa Moretto of Lilliput Network. "But we also aim to start new collaborations between families and museums, so that museums are seen as social places, communities and agents of change".
"The International Coalition of Sites of Conscience – Europe assists museums with redefining their role and provides opportunities for critical reflection and open discussion on today's most pressing social issues with the goal of taking action to ensure a more equitable and peaceful future. Engaging families with children in these efforts is crucial to promote social engagement, dialogue and impact that build from the ground up" says Justine Di Mayo of the International Coalition of Sites of Conscience – Europe.
Professionals from Italy, Albania, Spain, Finland, as well as Northern Ireland, Portugal, Bosnia and Herzegovina and the Netherlands, who work daily on these topics, will share their experiences and offer strategies for engaging families and children in deeper and more reflective ways.
Download the full agenda here.
28th September – Program and Speakers
11h00 INTRODUCTION
Museums for Families, Families for Museums by Elisa Moretto and Francesca Posenato, Lilliput, a piccoli passi nei musei
Museums as Agents of Social Change by Justine Di Mayo, International Coalition of Sites of Conscience – Europe
11h30 ROUNDTABLE: LILLIPUT PLUS PROJECT
The Lilliput Plus Project by Beatrice Sarosiek, Project Manager, Lilliput Plus
The Experience of War Childhood Museum, Bosnia and Herzegovina by Merima Ražanica, Lead Educator
The Case of Our Lord in the Attic, The Netherlands, by Luit de Bokx, Coordinator, Educational Department
Lilliput at Mu.MA – Istituzione Musei del Mare e delle Migrazioni, Italy, by Giovanna Rocchi, Coordinator, Educational Department
Q&A
Moderator: Beatrice Sarosiek, Lilliput, a piccoli passi nei musei
13h Lunch break
Afternoon
14h30 KEYNOTE
How Museums Change Lives: Participatory Relationships to Experience Heritage by Silvia Mascheroni, Università Cattolica di Milano and Università degli Studi di Pisa; ICOM Italia
14h55 INTERACTIVE SESSION
What Difference Can Educators Make In The Museum Experience? by Virginia Galli, AIEM the Italian Association of Museum Educators
15h10 MUSEUMS and FAMILIES FOR CHANGE: THE CONTEXT
The Contemporary Family: the Change of Parenting Roles by Francesca Lagomarsino, Associate Professor in Sociology, Department of Education Science, University of Genoa
Memory and the Power of Place by Maeve Mc Laughlin, Director of the Bloody Sunday Trust, Museum of Free Derry, Northern Ireland
The Transformative Role of Heritage Interpretation by Vanessa Vaio of Interpret Europe
Q&A
Moderator: Luisella Carnelli, Researcher, Fondazione Fitzcarraldo
16h10 Coffee break
16h30 MUSEUMS and FAMILIES FOR CHANGE: SHARING OF EXPERIENCES
Engaging Children and Adults Through Heritage-Based Educational Models And Public Events – the Experience of the E KA KUSH E KA Children Series by Mirian Bllaci, Project Coordinator, Cultural Heritage Without Borders, Albania
Experiences of Early Childhood Cultural Welfare as a Key for Change by Arianna Spigolon, Head of Mission Developing Skills, Culture Objective, Compagnia di San Paolo Foundation
Community Intervention and Sites of Conscience by Andreas Schäfter, Coordinator of Peace Education Programs, Gernika Gogoratuz, Spain
Q&A
Moderator: Justine Di Mayo, Program Manager: Europe and MENA, ICSC – Europe
17h30 End
VISIT AT GALATA MUSEO DEL MARE
For more info:
Press office Lilliput Plus: Elisa Moretto – elisa.moretto@hotmail.it (please write in English)